Dual-Endsheet
Combined-Endsheet.
This is a pre-glued element consisting of two end papers and a very flexible and tear-resistant DUROTEX backing strip. These combi-endpapers can be used in special perfect binding machines from Bourg, Horizon, Wohlenberg, Heidelberg, Müller Martini etc. instead of a softcover envelope; the resulting book block with endpaper can be mounted in a hardcover cover in a further processing step.
Closed head cut
No tilting on the machine.
The special thing about our combined-endpapers is the head or front edge glued together, depending on what you want or the perfect binder – this significantly improves handling in many perfect binders. To make the glued cut edge easier to see, we color the glue blue.
Dual-endsheet is custom-made for you: You can specify paper quality, grammage, format, color and web width with millimeter precision and order from 150 pieces!
Closed front cut
No tilting on the machine.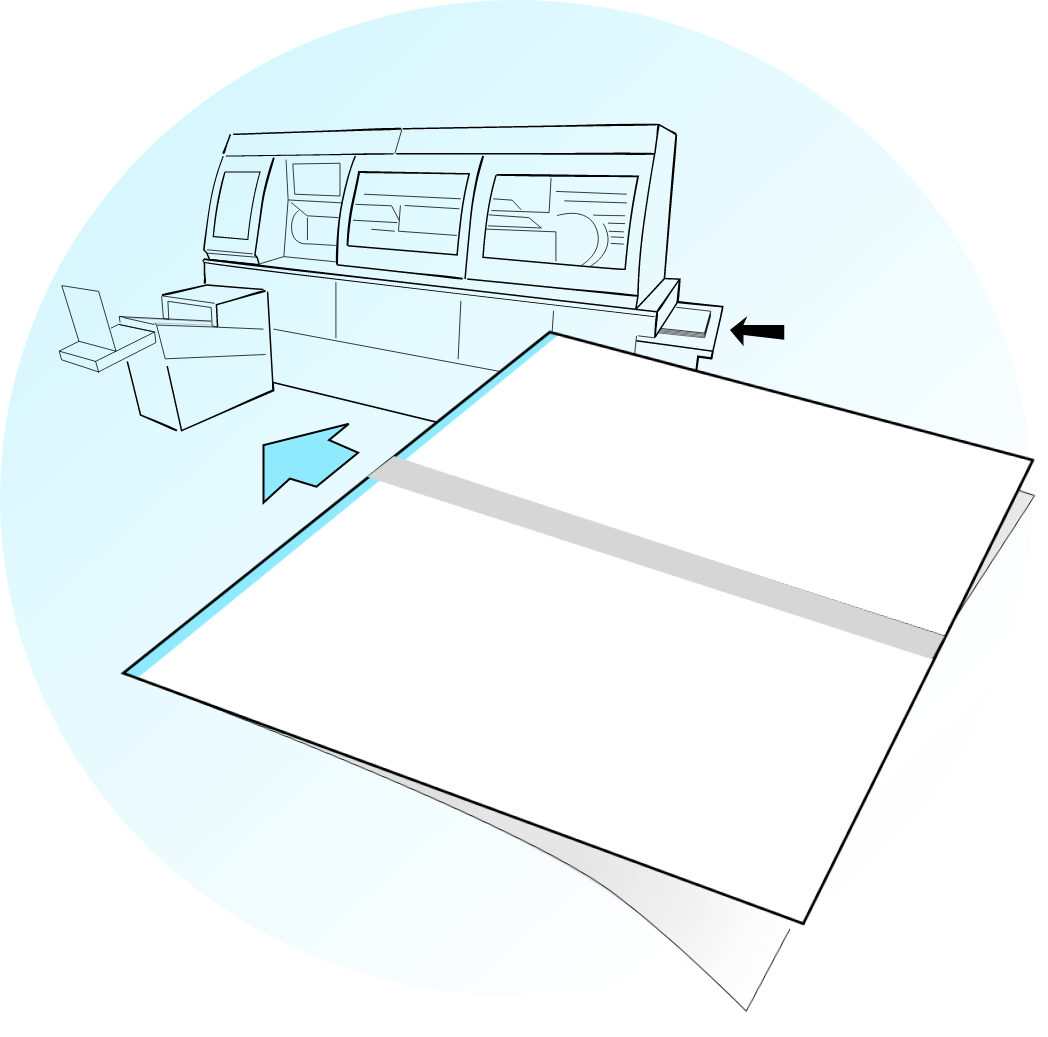 Order your dual-endpapers to suit the way your perfect binder works and place the material in the feeder so that it enters the machine with the blue mark first. Reco Service dual-endpapers can be processed in the same way as you are used to with softcover envelopes.
Great benefits of the RECO Service
.
Benefit from over 30 years of experience with bookbinding materials for hardcover books.

Large stock of materials and powerful crafting machines.

Strong partner for small runs and for large series.

Short delivery times and low prices.

Made to measure at no extra cost.

(we always produce everything on customer order)

Everything made in Germany.

Reco Service is FSC certified.

High quality and low manufacturing tolerances +/- 0.5mm for trouble-free machine operation.

different gap widths = one price scale


Often delivery problems due to purchases from abroad.

Very long delivery times and high prices for custom-made products.

Custom-made products are not available in some cases.

In the competition, each item ends up in a new position = new price scale

Not all other providers are FSC-certified.
Dual-Endsheet Request Form
Request free samples and quote exactly what you want.
Other RECO Service products
: